Enjoy incredible performance in perfect harmony with your environment thanks to E-TENSE plug-in hybrid power.
Choose a type of energy and find the motor that matches it.
Gearbox

Automatic

Number of gears

8

Max power CEE (kW/rpm)

250hp (186kW / 6000rpm)

Fuel Type

Plug-in Hybrid

AER (All Electric Range)

74

WLTP CO₂ emissions

22

WLTP consumption (electric) Wh/km

160

WLTP fuel consumption (l/100km)

1,0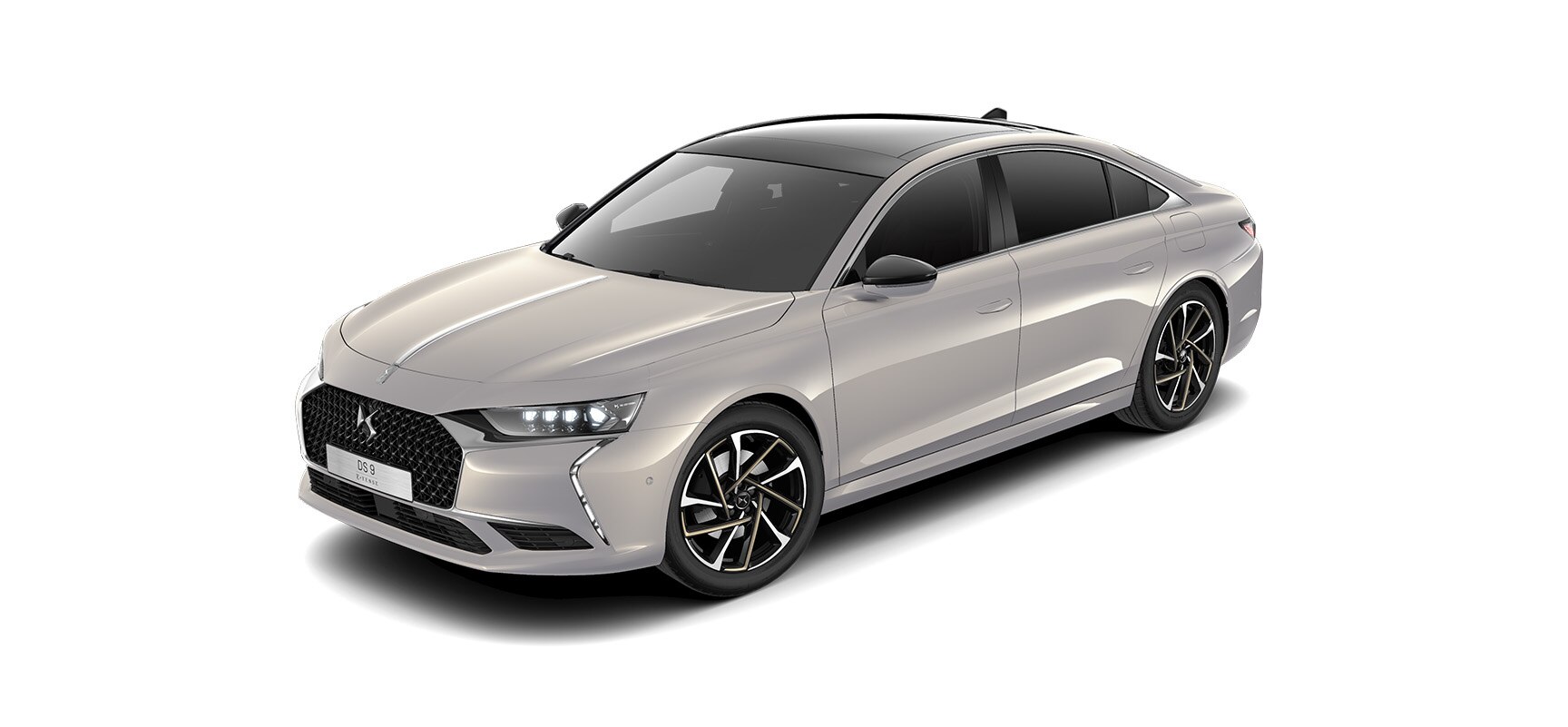 Configure and order
Exterior dimensions
Exterior height (unladen)
Exterior width (mirrors unfolded/mirrors folded)
1932 (2079 inc. mirrors)
mm
The epitome of elegance and comfort
Everyone has their own space
Massaging, heated and ventilated seats give the DS 9 driver, and their passengers, unparalleled comfort.
Thanks to its long 2.89 metre wheelbase, DS 9 offers a spacious and comfortable passenger compartment. At the rear, the elegant central armrest, designed mainly in Nappa leather, is fitted with USB sockets and enables the rear seat massage functions to be controlled.
DS 9 ushers in a new level of acoustic comfort. Conceived by our experts, the laminated glass with an acoustic film combines with a hard-bonded bodyshell to eliminate all vibrations and ensure calm, stress-free journeys. The extreme technical prowess is underlined by our FOCAL Electra® sound system and its 14 speakers which introduces a sound of unparalleled purity. 
Perla Nera Black

Midnight Blue

Platinum Grey

Pearl Crystal
Legal Information
¹ The fuel consumption or electric range achieved, and CO2 produced, in real world conditions will depend upon a number of factors including, but not limited to: the accessories fitted (pre and post registration); the starting charge of the battery (PHEV only); variations in weather; driving styles and vehicle load. The plug-in hybrid range requires mains electricity for charging. The WLTP (Worldwide Harmonised Light Vehicles Test Procedure) is used to measure fuel consumption, electric range and CO2 figures. Figures shown are for comparison purposes and should only be compared to the fuel consumption, electric range and CO2 values of other cars tested to the same technical standard. The figures displayed for the plug-in hybrid range were obtained using a combination of battery power and fuel. Information correct at time of going to print. More details on WLTP can be found here.